This week Carly Pearce co-hosts the Countdown with Lon. Carly just won a Grammy Award for her #1 duet with Ashley McBryde: "Never Wanted To Be That Girl. "I'm still getting used to hear that before my name. I think Ashley & I are the first women to win the ACM & CMA Music Event and a Grammy, so we've had some good moments!"
Lon asked Carly about her Grammy week experiences in LA: "I think I tried to soak it in. I was in the room with a lot of people I didn't expect to be in a room with. I got to see Adele, I got to see Beyonce, I didn't speak to any of these people because I didn't think it was the time. The night before, I got to sit at a table with Miranda, Luke Combs, Maren, and Ryan Hurd at the Clive Davis party. It was the country table, and I have these pinch-me moments, and the whole weekend was that for me."
Carly was on tour last year with Kenny Chesney, so Lon asked her about that: "I learned how much he loves people. Not only the people in the seats, but the people around him. I got to meet his mom, she came to one of the first shows, and we hit it off. In front of Kenny, she said, 'Is Carly gonna sing with you?' I credit her for me getting to sing 'You & Tequila' with Kenny every night."
Right now, Carly is on the road with Blake Shelton: "This is y second tour with him, which is fun. He views me as a little sister, and the first night of the tour, he invited me to hang out with him. They call it getting 'Blake Shelton'd,' and it put me out of commission til the next week. So Blake, you practically killed me that first week."
Carly says she's good friends with Kelsea Ballerini: "It's funny Kelsea was the first person in the industry I told I was filing for divorce, and I was one of the first people that she told. it was this very weird full circle moment. I'm very proud of her. She's turning her pain into art.
She also made a few appearances with Wynonna Judd: "I had the honor of being asked to sing at The Judds induction into the Country Music Hall of Fame. That moment was so terrifying, but at the same time was so beautiful that they wanted to still go on with it. We've developed a friendship, and when your heroes become your friends, it's kind of crazy. She's a very strong chick."
On writing What He Didn't Do: "I was writing with Emily Shackleford and Ashley Gorley, and Ashley asked me 'What did he do?' And I said, 'What didn't he do?' He said, 'Sit down.' We wrote it in 45 minutes. I called my mom and read her the lyrics. I knew when I left it was an idea I had never heard that I felt was needed to be heard. What's fun is I can see it on the other side of the hurt. Now I have people come to my shows and ask if they can get over it, and I can now stand on the other side and say you'll be alright."
On the video for What He Didn't Do: "We wanted to show the battle I was under…under water…with my heart and my hurt, come on the other side a little beat up, but still coming out of it. I wanted it to feel like my internal struggle." Lon said 'It looks like it could have gone either way.' Carly replied: "And it could have…in my life…gone either way. And I wanted to show that. That was the hardest thing I've done in my life. I felt like I was drowning. It was very intense. I was unwell at the end of that day."
When will we hear new music? "Probably sooner than you think. I'm very excited. This album taught me not to be afraid to be me. Everybody thinks it's gonna be love songs because I'm in a happy relationship. But people will hear what's been going on in the last few years for me. It's a good time to be me, but I'll never abandon my sad songs."

Carly also has great stories this week about Blake Shelton, Jackson Dean, Megan Moroney, Cody Johnson, and Old Dominion.
NEXT WEEK: Lainey Wilson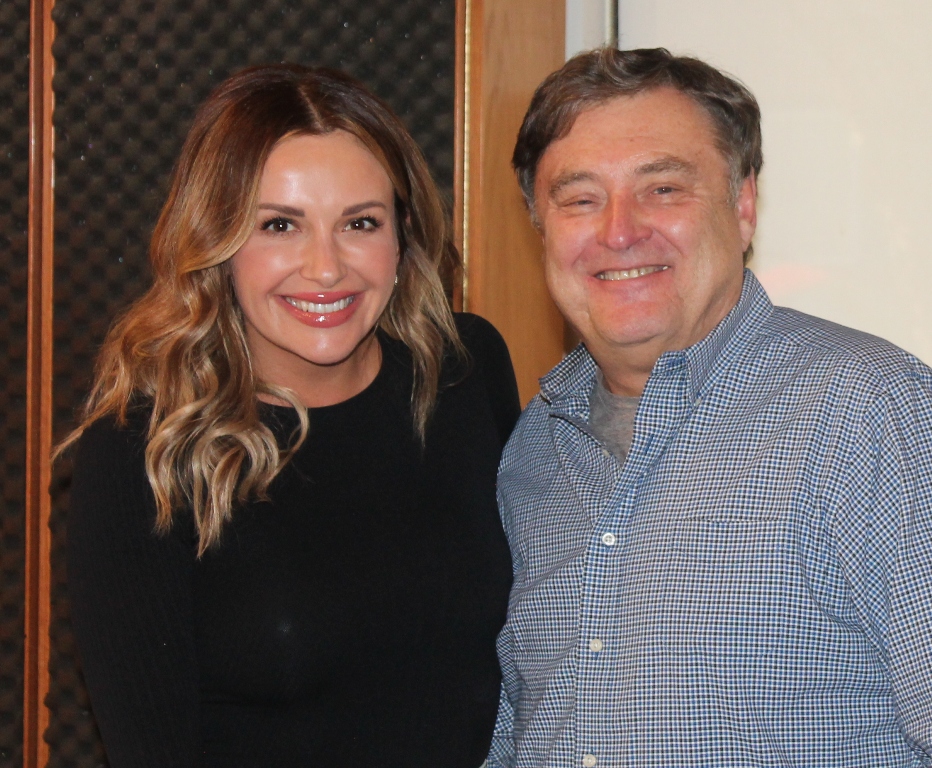 Category: CO-HOST